Speed up a slow Android phone
By Jonatan Littke. Updated 3 years, 5 months ago. 104,630 unique views.
If you have a Motorola Droid, Nexus One, HTC Hero or any other Android phone that you want to speed up, there are several things you can do to make it faster.
Close all idle applications
Lots of applications run in the background, even when you don't need or use them. Close these to improve the speed.
Open the Market application
Search for and install Advanced task killer.
Open Advanced task killer and close all programs. If you know you have some programs you don't want to close (like your music player), you can click on them and they won't be closed. But it should be safe to close everything.
Repeat the process above at least once a day or after you've started many applications.
Why: Android runs applications in the background, so they don't have to be restarted next time you want to use them. So if you have started lots of programs, most of them are still running, but not visible. While it's handy, this also makes the phone slow, in particular if you've started many applications.
Remove widgets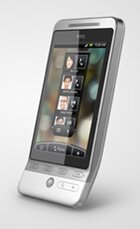 A home-screen widget.
The widgets on your desktop (f.e clock, calendar, contacts etc) eat a lot of resources, in particular if you have a HTC Hero. Remove all the ones you don't use.
Press and hold (long press) on any widget until it becomes movable and a Trash can appears.
Drag the widget to the Trash can.
Repeat the procedure for every widget you don't use or need. Note that, in particular on HTC phones, even if you use some widgets they may be worth to be removed because they eat so much memory.
Upgrade the software
There are newer versions of Android available, but to get it it normally requires a manual upgrade with the help of a Windows XP or Vista computer.
We have a detailed tutorial on how to upgrade HTC Hero to Android 2.1. Tutorials for other phone vendors are coming soon.
Remove applications you don't use
Go to the Settings menu and then 'Applications' to remove unused stuff. Even if you're not using them, they're potentially clogging up your system.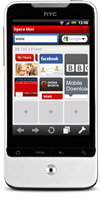 Use a faster internet browser
Go to Market and install Opera Mini. It's faster than the built-in Android browser and has a few other features up its sleeve which you may enjoy.
That's it – we hope you enjoy your faster phone. If you liked this article, please help us share it or provide feedback in the comments. Thanks!